A professional analytics service to measure and analyse website user experience assisting online business goal delivery.
Read what our clients have to say about WAMMI: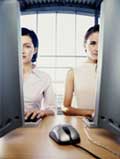 The WAMMI survey has been very useful and easy to interpret. The strengths of WAMMI for my audience (very tech heavy audience) were:

Benchmarking and metrics - Process freaks (most engineers and engineering managers) loved it.

Quantifying satisfaction - Really good way to demonstrate the dimensions of satisfaction both to engineers and marketing.

Confidence - I had to talk myself stupid about validity/reliability before hand, but at the end of the day the 1000+ responses provided the real brute force argument.
Nathan Langley, Betfair.com, Usability Manager